What is one thing that you wish could be disposed of in a multifamily property?  Yes, the dreaded dumpster…  Chances are, if you have more than a few units in a property, there will be one on site.  The placement of, access to, and the concealment of the dumpster are all extremely important to not only the tenants' satisfaction, but also to the financial success of a project.  Let's take a look at some of the problems and possible solutions to this rubbish.
They stink, they are ugly, and no one wants to be around them.  These are the obvious problems with a dumpster, but let's discuss some of the other issues.  Ones that you may not know or that may go unnoticed until it is too late.
First, the dispatched truck which empties the dumpster on a regular basis is certainly no Prius.  These monsters are loud, usually have flashing lights, and always have a backup alarm (you know, the annoying beep, beep, beep).  Also, the drivers of these vehicles usually start their day around 4:00am, as they want to complete their route before rush hour traffic begins.  Therefore, this leads us to Rule #1:
Rule #1: LOCATE THE DUMPSTER AS FAR AWAY FROM WHERE PEOPLE SLEEP AS POSSIBLE!
Second, these garbage trucks are heavy!  They can weigh in around 30,000-75,000 lbs, or more, and standard asphalt is no match for this amount of weight.  In addition, the side to side movement of the front tires of these behemoths, especially in the summer heat, only helps to further destroy any asphalt in its path.  In our experience, concrete has been the only paving material that is able to withstand the punishment of these trucks.  Therefore, and unless you own an asphalt company, please heed Rule #2:
Rule #2: INSTALL CONCRETE PAVING IN FRONT OF AND UNDER THE DUMPSTER!
Third, let's talk a little about location and access.  I am familiar with a property, built when I was just a young lad, originally developed as a multi-phase property.  The dumpster was located at the end of Phase I, allowing it to be centrally located to all future phases.  Well, one thing led to another, and no other phases of the project were ever built.  This left the dumpster at the very end of long entrance drive, as far away from the public street as possible!  The garbage trucks were required to drive through the entire property to empty the trash on a weekly basis.  As you might guess, the asphalt drive and surrounding parking lot was always full of potholes and was constantly in a state of disrepair.    On to Rule #3:
Rule #3: LOCATE THE DUMPSTER AS CLOSE TO THE PUBLIC STREET AS POSSIBLE!
Fourthly, we typically think that people want everything conveniently located, which often gets translated into "immediately adjacent."  As we have discussed above, there are benefits to not placing the dumpster right under the residents' noses.  In the same regard, placing the dumpster far out of reach of the tenants makes throwing away one's garbage an inconvenience.  We all know what happens when something is inconvenient.  Staff ends up having to pick up bags of garbage that were placed everywhere else on the property, except in the dumpster.
Before we move on to Rule #4 though, there is one exception.  We have seen, in recent years, a courtesy trash service being implemented at many multifamily properties.  In communities utilizing this service, residents place their bagged garbage outside their front door every night before a certain time.  In the middle of the night, a worker comes by and collects the garbage of all residents and disposes of it in the dumpster.  This not only increases tenant satisfaction, it also eliminates some of the littering on site caused by the ole' "garbage bag on the hood of a moving vehicle" trick…  Now we are ready for Rule #4: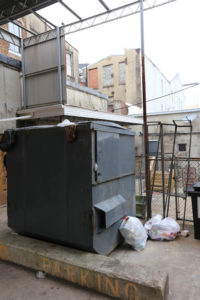 Rule #4: DON'T MAKE THE DUMPSTER SO INCONVENIENT THAT NO ONE USES IT!
Finally, that large, metal box they call a dumpster is UGLY!  So much care is given to the initial design, the landscaping, and the maintenance of a multifamily project, yet so many times the trash dumpster is the first thing a prospective tenant sees!  Why, oh why???  Though a masonry wall that guards the dumpster like Fort Knox is nice, a simple wood privacy fence also does a great job of concealment and will not break the piggy bank.  Just keep in mind those 8' wide wooden gates will not support themselves for more than a week or two.  Use a metal frame with applied wood boards, or at least wheels, at the latch sides of the hinged gates.
Do you know what looks worse than a dumpster sitting out in the open?  A dumpster with a dilapidated fence and gates that are about to fall off their hinges!  Now, we are ready for Rule #5.
Rule #5: CONCEAL THE DUMPSTER IN A WELL-BUILT AND WELL-MAINTAINED ENCLOSURE!
So, there you have it!  Five rules to keep in mind when thinking about the Dreaded Dumpster!  But wait, you say!  You have told us everywhere NOT to place the dumpster.  How about some practical advice on where to place this ugly, smelly, thing???  Okay, so here is your Bonus Rule:
Bonus Rule: A CONVENIENT LOCATION TO HOUSE THE DUMPSTER IS TYPICALLY BESIDE THE REAR EXIT DRIVE, IF AVAILABLE.  IT IS BEST IF THE DUMPSTER HAS ITS OWN, SEPARATE, CONCRETE DRIVE FOR ACCESS.  IF YOUR PROPERTY ONLY HAS ONE ENTRANCE AND EXIT, THEN PLACE THE DUMPSTER OFF TO THE SIDE OF THE DRIVE, AS CLOSE TO THE PUBLIC STREET AS POSSIBLE, PAINT THE ENCLOSURE A DARK GREEN COLOR, AND SURROUND IT WITH TALL LANDSCAPING FOR CONCEALMENT.  THE MAJORITY OF PEOPLE WILL NEVER NOTICE IT!